The Basilica of Vézelay makes its cinema !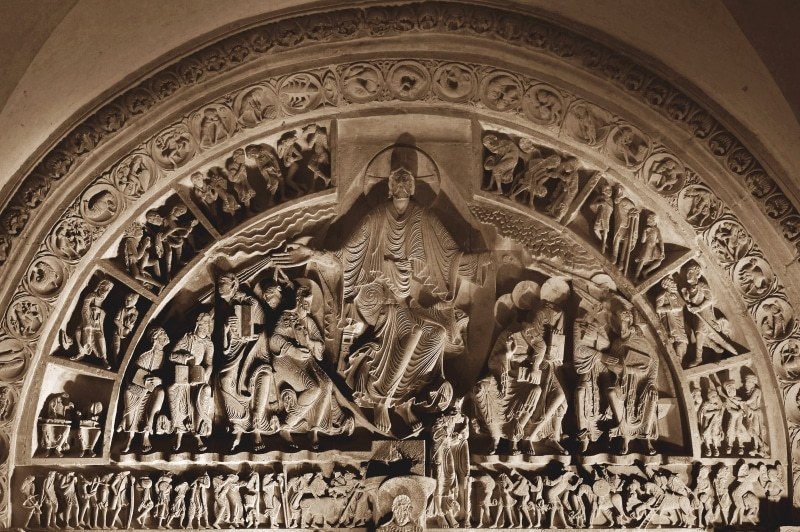 Screening of the film on the Grand Tympanum "The New Adam Dance" is an achievement of the Visitor's House.
The masterpiece of the Basilique de Vézelay is currently under construction
... but you can discover it by watching the movie " The New Adam's Dance "!
Sneak into the carved stone of the Great Tympanum of Vézelay: a symbolic journey, poetic, musical full of meaning, emotion, wonder at the heart of this masterpiece of Romanesque art.
"Making a film that makes the great tympanum vibrate was a creative adventure that aroused our enthusiasm as well as our fear, finding us so close to these images carved 900 years ago in anonymity. Thanks to the combined glances of three photographers, to the cheerful feather of an actress, to a musical writing embracing the text as much as the carved reliefs, to the advice of wise artisans, to the availability of researchers passionate about symbolism and theology, work was born. May she actualize the prophetic vision of the great tympanum, this ancient and ever new Word. " Hélène Ramin.

In practice
Duration : 52mn, go to the Visitor's House
Rates :
Adults: 7 € / pers. Reduced: 6 € / pers. Groups: 6 € / pers. School: 5 € / pers. Children 6-12 years: 4 € / pers.
Booking
Visits open to all: see calendar below
For groups and school dates and times on request. Minimum package of 75 €
Contact: + 33 (0) 3 86 32 35 65 - maisonduvisiteur@orange.fr
---