A visit to know and understand the construction techniques of craftsmen.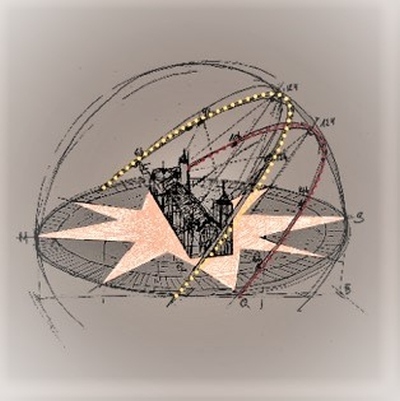 Building with light Discover the steps of building a church and the gestures of the craftsmen with the tools they used: 13 rope knots, gnomon, false square ...
... how there is the 900th anniversary men have built with light. Other civilizations have done before them, but "Atelier Bâtir avec la lumière" brings our attention and admiration to these medieval builders who have left us remarkable testimonies of this art of building as at Vézelay.
How did they do to create paths of light that appear on the floor or on the sculptures throughout the year to the rhythms of holidays and seasons?
During the workshop experience the solar observation, that of the first traces on the ground, that of the choice of volumes and openings that allows the play of the sun with the stone.
Visit of the visit Building with the Light
In the workshop
Be part of a team of craftsmen who have been ordered for thea construction of a monastery church a hundred years after the year 1000.
Forget our computers, our tablets, our watches, to trust the solar time, our qualities of observation and our hands.
1 Being in space, cosmic dimension
Evolve with one hand a epure table, to make particular drawings, (experiments in model) and include the solar radiation tracking to orient the building.
On the other hand, the other backgammon will serve to make traces on the ground of the future building as if we were on the ground.
2 The first traces: outline of the plan, the laws of harmony
3 Designing Paths of Light
In practice
Duration : 1h15
Rates :
Adults: 9 € / pers. Reduced: 7 € / pers. Groups: 8 € / pers. School: 6 € / pers. Children 6-12 years: 4 € / pers.
Booking
Visits open to all will resume in the spring: see calendar below from February 2020.
For groups and school, dates and times on request. Minimum package of 90 €
Contact: + 33 (0) 3 86 32 35 65 - maisonduvisiteur@orange.fr
Teachers, visit our page dedicated to school: The schoolchildren in Vézelay: "a heritage to live"
---